Baby & Kids Furniture Safety
As parents ourselves, we strive to produce a product that is safe for your child's daily use. We attest to you, the consumer and parent, that all of our cribs either meet or exceed voluntary and mandatory crib standards promulgated by the ASTM (American Society for Testing & Materials), the CPSC (Consumer Product Safety Commission), the CPSIA (Consumer Product Safety Improvement Act of 2008), and Health Canada.
All of our cribs have been tested by an independent, third party testing facility in the United States.
We are also certified for air quality on all cribs and furniture under the GREENGUARD GOLD (Children & Schools) Certification Program.
Safety Certifications in the USA:
ASTM F1169 – Full-Size Baby Cribs
ASTM F406 – Non-Full-Size Cribs
ASTM F1821 – Toddler Beds
ASTM F2388 – Changing Tables
ASTM F2057 – Clothing Units
16 CFR Part 1130 – Consumer Registration of Durable Infant or Toddler Products
16 CFR Part 1303 – Ban of Lead-Containing Paint and Certain Consumer Products Bearing Lead-Containing Paint
CPSIA (Consumer Product Safety Improvement Act of 2008)
California Proposition 65 for Phthalates
Illinois Lead Poisoning Prevention Act
Cribs & Furniture are certified for low VOCs under the 

Greenguard GOLD Certification Program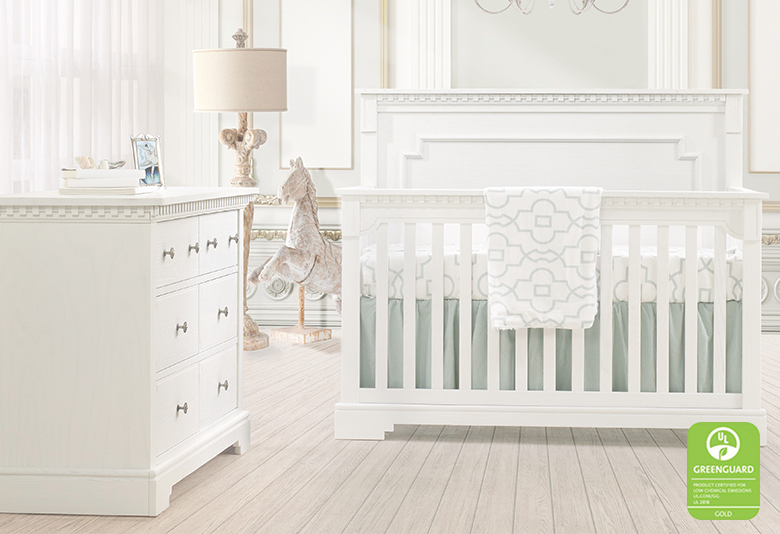 Safety Certifications in Canada:
SOR/2015-17 – Hazardous Products Regulations for Cribs & Cradles
CHPA (Canadian Hazardous Products Act) Schedule 1, Part 1 – Total Lead / Mercury & Soluble Heavy Metals